Zubehör
Ebenfalls bei uns!
Products description
Tami Dogbox inflatable Backseat M € 509,-
Fits: Fox Terrier, Cocker Spaniel, Border Collie, Schnauzer ...
Dimensions: 70 x T B 59 H x 71 cm
interior dimensions: W 60 x T x H 54 66 cm
Weight: 4.5 KG
Includes foot pump, bumper protection, side access protection
mounting adapter and repair kit


The backseat dog box TAMI Backseat M weighs in at just 4.5 kg lightweight on the scales. For medium to large breeds, such as Fox Terrier, Cocker Spaniel, Border Collies or Schnauzer. Choose based on the size of your dog, between the TAMI Backseat Box S, M and L.
All Tami Backseat boxes have 2x side entry openings (either left or right to enter), and 1x a rear entry opening for operation as "Storage box" The main argument for the TAMI Backseat box is that it virtually fits into any four-door car. The TAMI Backseat box is inflated only in the car and thus shapes itself directly to therear seat.
Each TAMI Backseat box , given an appropriate trunk size naturally used as a boot box are.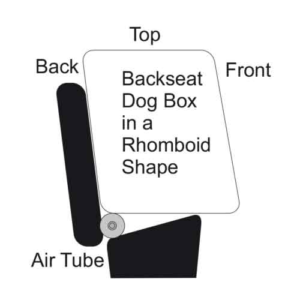 An inflatable air tube can be moved forwards and backwards, and are filled with more or less air, in order to adjust the ground angle.
Product 13 of 27 in this category